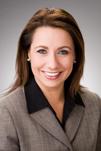 Nicki L. Pope experience in Commercial Real Estate extends over ten years in the Atlanta and Southeast Region markets.  She specializes in commercial management, focusing on operations, leasing, tenant relations and tenant retention programs, construction management and problem solving.  Ms. Pope interacts with clients, tenants, brokers, and constructor during complicated situations.  Her personal standards, as well as outgoing personality, allow her the ability to interact with others to gain their trust particularly during challenging situations.
During Ms. Pope's Commercial Real Estate career, she has been employed by large real estate investment trusts such as New Plan Excel Realty Trust where she managed over 1.6 million square feet of retail in the southeast, as well as REIT Management & Research LLC where she found herself responsible for the management of 800,000 square feet of Class A and Class B full service office.  Other employment assignments have included third party management with company as PM Realty Group (retail and full service office) and CB Richard Ellis where Ms. Pope management industrial real estate.
Ms. Pope has managed staff the include Building Engineers, Office Administrative Staff, and Leasing/Sales Representatives.  She has been able to implement policy and procedures that are effective in the daily operations of the assets and are effective tools for the staffs to utilize in tracking lease deals, upcoming renewals, projects and/or events.
Nicki Pope joined Fickling & Company December 1, 2006 as the Director of Property Management Division.
Education & Honors
Bachelor of Business Administration. Shorter College
Licensed Real Estate Salesperson, Georgia (1996)
Professional Affiliations
Building Owners and Managers Association (BOMA)
International Council of Shopping Centers (ICSC)
Macon Chamber of Commerce