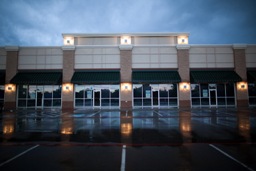 Construction of new retail development continues to grow in the Macon and Warner Robins area. Thanks to strong demographics, new stores are focusing on north Macon and southwest Warner Robins. Both Macon and Warner Robins continue to expand their retail markets to new locations outside existing retail corridors. Warner Robins is seeing growth on South Houston Lake Road, west on Watson, and west on Russell, as well as filling in existing retail locations. Macon locations are experiencing similar new growth; west on Eisenhower, Zebulon, and Mercer, as well as north on Riverside. South Macon continues its growth on Hartley Bridge. The downtown business district is filling in and east Macon's existing locations are being occupied by new businesses.
Areas close to interstate exchanges are prime locations for new business. Small vacant retail space in upscale locations with a size of less than 2,000 square feet are close to nonexistent. If they do come on the market they are quickly snapped up. Retailers new to the Macon market are scheduled to open for business this year. Further, watch retail spaces that have been vacant for years in older Macon locations be filled by new businesses.
Middle Georgia is showing up on out-of-town investors' radar screens. They consider the price of retail real estate in Middle Georgia a real bargain compared to other larger metropolitan areas.  Here in Middle Georgia our market is different from other larger real estate markets often referred to in the national media. We have not experienced a housing bubble and will not see our real estate markets decline as some of the larger cities in the country have. With the stock market recently going to the bears, many big-city investors are focusing on our area as a bargain for their real estate dollar. Also, they do not see us suffering to the extent the larger cities will if the economy takes a down turn.
Many of the retail centers and strip malls that have been on the market for years have had serious offers or sold in the last three months to out-of-town investors. Further, these out-of-town investors are bringing retailers with them to occupy the existing vacancies in the retail centers they are purchasing. In the future, expect to see new retailers, especially Hispanic and Asian stores, opening in the Macon market.

John Strohofer
Commercial Real Estate Agent
Macon Real Estate Agent
478-746-9421