The beginning of a new year is always a good opportunity to review and analyze the previous year's activities and plan for the coming year. 2006 was an exciting and successful year for the development group.
On the multi-family side, Lullwater at Saluda Pointe, our 280 unit luxury development in Lexington S.C. (a suburb of Columbia) started construction in the second quarter and is now well underway. Judging by the high standards of design, the excellent location and a very healthy apartment market this property promises to be a great success when it opens in the first quarter of 2007.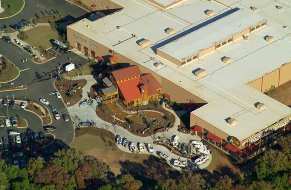 In retail, the wildly successful opening of the Bass Pro retail store in our Market Place at Bass development in October has, as expected, started an avalanche of interest and activity in that development as well as in Lullwater Village, our lifestyle shopping center located just south and across Bass Rd. from Market Place. These two developments lie at the absolute center of the emerging upscale north Macon retail market and we are excited to have several sites under contract to sell as well as numerous letters of intent from strong, nationally recognized high end retailers, restaurants and hotels- many of which will be new to the Macon market.
These developments, when completed, will only further cement Fickling & Company's reputation as one of the premier multi-disciplined real estate development firms in the south.
Now, what next? 2007 is also shaping up to be full of challenges and accomplishments. With long term interest rates remaining low and steady, commercial real estate should remain a very attractive investment vehicle, offering both individual and institutional investors the potential to achieve returns higher than they might obtain in the stock or bond markets.
This interest in the investment or equity side should also help to insure that the lenders will be there to provide the capital for new development at attractive terms to strong developers with well conceived carefully planned projects.
Two of our biggest continuing challenges in 2007 will be in dealing successfully with the rapidly escalating construction and development costs that have plagued our industry over the last few years and the increased competition within the development community.
Looking forward, in addition to completing Lullwater at Saluda Pointe and the continuing development and construction of Market Place at Bass and Lullwater Village we have several opportunities in the pipeline for 2007. We are actively pursuing several new apartment and retail development deals in markets around the south that we have identified as meeting our very demanding decision making criteria. In addition, we are looking at a very promising high rise office development in metro Atlanta. We will continue our approach of identifying strong, growing markets and then locating and developing the best locations in those areas.

Bobby Cleveland
Vice President of Commercial Development
Macon Commercial Office
478-746-9421