If you're selling your home and want to get more buyers in the door, there are a few quick, easy and inexpensive things that you can do to make your home stand out from the competition.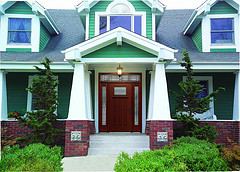 First, your curb appeal will decide if many buyers will want to see more.  Look at your house from the street.  Check the landscaping; sometimes just adding a few flowers and fresh mulch can make a world of difference.  Add something special such as large flower pots that will help buyers remember your house over others they have seen. Does the front door need a fresh coat of paint?  Or; consider installing new house numbers, a brass kick-pate or door knocker.
Color Counts!  Paint is a very inexpensive and fast way to make a huge difference in your homes overall appeal to buyers.  Soft colors are very welcoming and lead the eye from room to room.  And don't forget the window treatments; buyers want light and views, so consider removing dark heavy drapes and replacing with softer fabrics, shades or blinds.
Upgrade and de-clutter your kitchen and bathrooms.  These two rooms can make or break a sale!  In the kitchen, remove the magnets from the refrigerator, take all items off the counter tops and add flowers or fresh fruit and – if needed – update the cabinet hardware and/or paint the cabinets for a fresh new look.  In the bathrooms; de-clutter the vanities and clean, clean, clean!
Empty out the closets and storage areas!  Box it up, move it to the garage or a storage unit, or have a yard sale but be sure these areas are clean and organized. You want the buyers to be able to vision their "stuff" fitting in these spaces.
Stage your home.  Arrange the furniture so that each room looks open, inviting and spacious.  Remove any furniture that makes the room look too small or disorderly.  Add color with pillows, flowers and window treatments.
Be proactive, get a home inspection!  Having a home inspection prior to putting your house on the market allows you the opportunity to make any necessary repairs found as opposed to having last minute repairs from a buyer's inspection.
These improvements and recommendations can help you have a quicker sale and more buyers interested in your property.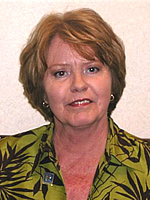 Elaine Lee
Senior V.P. Residential
Warner Robins Residential Office
478-953-2244
photo credit: MoneyPit