After attending the Hunter Hotel Investment Conference this March 2009 and hearing the famous economist from Georgia State University Rajeev Dhawan the industry outlook is not pretty.   With lenders, franchisors, and industry experts having no answer to when the economy will turn and be positive.
The Pain Is Now
The PKF-HR March 2009 national forecast calls for a 13.7 percent decline in RevPAR during the current year, representing a downward revision to the 9.8 percent decline anticipated earlier this year, a time when the economic outlook was not quite as severe. The revised 2009 forecast is the result of a 7.8 percent fall off in occupancy and a 6.4 percent drop in Average Daily Rate (ADR) for the year.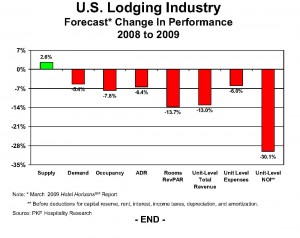 "Of most concern are declining room rates," Woodworth noted. "The 6.4 percent decrease in ADR forecast for 2009 is the largest annual decline observed by PKF-HR since the firm began compiling data in 1932. When revenue contraction is heavily influenced by declines in ADR, the downward impact on profit is amplified." PKF-HR is forecasting that the average U.S. hotel will experience a 30.1 percent decline in profits during 2009. This, too, is a level of deterioration not seen since the 1930s. Profits are defined as income before the deduction for capital reserves, rent, interest, income taxes, depreciation, and amortization. Although double-digit declines in both revenues and profits appear certain, the
new report indicates there is a small pinpoint of light at the end of the economic tunnel. The most severe declines in performance for U.S. hotel owners and operators are forecast to occur in the current quarter, and should begin to subside by mid-2009. "Fading revenues will persist throughout 2009 and 2010. However, the magnitude of RevPAR declines will taper off to single digits beginning in the fourth quarter of 2009," Woodworth said. "Continuing declines will further erode profits, but the leaching will become less painful as we move through this deep and extended trough in the business cycle."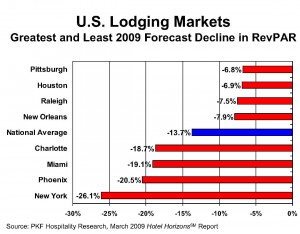 Some Will Enjoy 2010
"Economics can be a dismal and disappointing science. In today's environment, a slowdown in the pace
of revenue declines may be hailed as an improvement," says John B. (Jack) Corgel, the Robert C. Baker professor of real estate at the Cornell University School of Hotel Administration and senior advisor to PKF Hospitality Research. "The darkest hour is always just before the dawn, and we expect to see that in mid-2009. Subsequently, the rate of decline will begin to moderate, and national RevPAR is forecast to decline just 3.2 percent in 2010, the result a 0.9 percent drop in occupancy and a 2.3 percent decrease in ADR." In 2010, the vast majority of cities are still forecast to experience a decline in RevPAR for the year. However, emerging signs of economic recovery are expected in many markets, and 14 cities across the U.S. will enjoy RevPAR increases over 2009. Joining Anaheim and Minneapolis as the markets expected to lead the lodging industry recovery are the cities of Atlanta, Austin, Detroit, Oahu, Fort Worth, Raleigh, Chicago, Dallas, Nashville, Columbus, Albuquerque, and Houston.
"The upward trajectory of revenue projected for these markets in 2010 will draw some attention," Woodworth observed. "However, lenders, investors, and operators should continue to be cautious because all but the hotels in Houston are forecast to continue to report occupancy levels below their long-term average."
By 2011, all 50 markets covered by PKF-HR Hotel HorizonsSM forecasts are projected to achieve gains in performance. All three of the major top-line measures (occupancy, ADR, and RevPAR) are forecast to grow each and every year from 2011 through 2013.