Looking back at the remarkable year we've just enjoyed in Middle Georgia's retail real estate market and ahead to 2007, I am going to make some projections.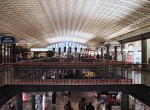 I have always said that key to the economy's remaining positive is Consumer Spending. Everything I've read shows Consumer Spending slowing, but continuing in a positive vein for 2007. If this is so, then our economy will continue to prosper in 2007.
In Middle Georgia, retail development has continued most aggressively at the Interstate interchanges. In particular, I see the most development to the north along I-75 and I-475 at Bass, Riverside and Zebulon Roads… that's where our area has the highest average household incomes and that's where retailers locate first.  We have over 7 Million square feet of existing retail space in Macon/Bibb County and at these three interchanges alone, there are planned six new shopping centers or strip malls of various sizes comprising over 2 Million square feet of new space. That's a thirty percent increase over existing retail space in our region!
The I-75/Hartley Bridge Road interchange has seen remarkable growth this past year. New subdivisions, an apartment community and a shopping center exist or are planned at this location.  The new I-75 interchange at Russell Parkway in Warner Robins/Houston County is booming.  Developers are quickly snapping up all available land in that location anticipating future growth and increased demand.  Additionally, I would expect to see East Macon enjoy some of the development and growth going on in the rest of the region.
Note the accelerated growth in the downtown retail market; incentives offered by New Town have successfully attracted new start-up retail businesses to the downtown. Additionally, forward thinking by local developers to attract the end users into downtown space prior to renovation portends further revitalization of downtown Macon.  Further, when the terminal station is finally reopened as a transportation hub and office location that section of downtown will see a resurgence of retail operators.
As new businesses move into the area, one of the things they are looking for is better education and training for their employees. Our Educational institutions must keep pace with these labor force requirements.  All our higher education institutions have expanded to meet this need.  Every college in the area has experienced better than average growth this past year.  Milledgeville's Georgia College will open a master's degree program in downtown this year.  If we keep improving our educational systems, is it too much of a stretch to think of our area in terms of a progressive and cooperative team between business and education in the near future providing the catalyst for even faster growth in our region.
As I've mentioned in previous articles, I see Florida people moving in from the south and Atlanta natives moving in from the north, with national retailers and distributors viewing our region as an area of growth and opportunity.  Developers must be anticipating remarkable growth, because their building hasn't stopped in our region.  The Macon Telegraph is reporting a new building going up every week.  If we don't outpace demand with our supply of retail space and our market can support an additional 2.5 Million square feet of retail space coming on line this year, then this should be a great year for retail development in our region.

John Strohofer
Commercial Real Estate Agent
Macon Commercial Office
478-746-9421