The Bibb County apartment market continued to be active in 2008, albeit considerably slower than 2007.  The capital crunch caused lenders to adopt more stringent lending standards or stop completely making loans.  The loan to value dropped to 75-80% and actual NOI was used to arrive at the value.  The demand for apartment complexes, especially those with 60 or less units, continues to remain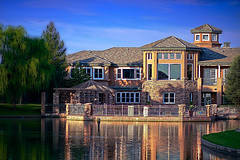 strong.  Some of the recent activities include: New Product:
The 294 unit Ansley Village on Zebulon Road just west of I-475 was completed. Leasing was commenced in November 2007.
A 240 unit complex off Zebulon Road on Peake Road behind Lowes is under construction.  The complex will have three four story buildings on 14 acres. Leasing is expected to begin in late Spring with construction completed in the Summer. Units range from 788-1,296 SF with asking rents from $710-$1,026.
Consistent with the past, most new construction has been in the North and Northwestern areas of the county. Although the population growth in Bibb County has been less than 1% since 2000, new units coming on the market averaged 180 units per year since 2000.  These new units were absorbed fairly quickly as residents moved from older units. Sales
Five complexes containing 428 units were sold in 2008.
Average price per unit was $29,600. In addition, two downtown properties having retail on the ground floor and apartments on the upper floors were sold.  Sales for the year dropped significantly from the 11 complexes with 1,600 units that were sold in 2007.   Complexes For Sale There are 12 complexes advertised for sale. One of these complexes is 100% vacant and average asking price on the other 11 is $30,700 per unit. Current Market The increase in unemployment in Bibb County from 5.2% in December 2007 to 7.9% in December 2008 has put pressure on the occupancy rates at some of the complexes. Most complexes are experiencing higher retention rates which has helped to offset the increase in the vacancy rate attributed to higher unemployment. The Bibb County market follows the national market where any advantages to apartment owners from the decline in home ownership is offset by job losses and the additional rental units coming on the market from foreclosures of condos and single family units. Many of the complexes continue to have 90+ occupancy and have been minimally affected by the current recession. The Census Bureau estimated there were 71,569  housing units in Bibb County  at the end of 2007.  The housing units in multi-unit structures was estimated to be 28.6% or 20,468 units. Rental rates are staying relatively flat but we are beginning to see concessions  again. Following are the range of rents for 1 – 3 BR units in the different classes.   Rent                     Rent/SF Class A                               $670-$1,055            $.84-$.70 Class B                                $640-$1049             $.82-$.67 Class C                                $460-$805               $.59-$.56   We believe the Apartment market will continue to be under pressure for the remainder of 2009. Increasing unemployment and competition from the shadow market for renters will contribute to an increase in vacancy rates and increased concessions. Sales will be limited due to a lack of financing. Credit markets may free up in late 2009 or early 2010, which will help sales. However, cap rates are anticipated to increase.