Warehouse/industrial Market activity slowed in the 4th quarter of 2008, however the year ended with stabilized occupancy at 73%, basically unchanged from 2007.
Occupancy in 2009 is expected to decrease. The construction industry is cutting back on occupied space as the cautious business climate and lack of financing continue to exert a negative influence in the market.
Highlights of Industrial activity in 2008 include:

HD Supply leased a 75,000 sf build to suit on Cavalier Drive
Jayco Stamping purchased the 42,000 sq ft building at 465 Albert Street.
Huttig Building sold to Excess Inc of Cleveland, Ohio – 90,000 square feet
Economy Tire Building at 7501 Airport Drive – Spectrum Industries leased 30,000 sf.
2000 White Elk Springs Court – Ferry- Morse Seed Company leased 115,000 sf
2000 White Elk Springs Court – CAL-AGREX, INC leased. – 50,000 sf
The Macon/Bibb County Industrial Authority has acquired two tracts of land for future industrial sites.  The 124 acre site on Avondale Mill Rd and the 125 acre site on Fulton Mill Rd are zoned M-2, Light Industrial.  Utilities are on site or nearby.  The sites are listed for $27,500 per acre.
The 660 acre Sofkee Industrial Park in south Bibb County was awarded the first  "certified site" designation in the state.  The Industrial Authority completed the    G.R.A.D. (Guaranteed Ready for Accelerated Development) process in 2008.
The most significant block of industrial space that came on the market in 2008 was the 100,000 square foot Rooker spec building on Joe Tamplin Blvd.  The selection of industrial/warehouse space under 75,000 square feet increased slightly in 2008. Available inventory should continue to increase during 2009 as the economic conditions continue to influence the local economy during 2009.  The primary challenge to decreasing the high warehouse/industrial vacancy rate in 2009 will again be finding the right user or users for the 2.2 million square foot Brown & Williamson Tobacco Plant which accounts for 13% (half) of the vacancy rate.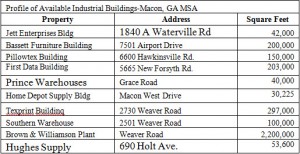 According to the Macon Economic Development Commission, the public private group responsible for recruiting and retaining business and industry in Macon and Bibb County, industrial project activity slowed slightly in the 4th quarter of 2008, but  was above the average annual numbers experienced in the years from 2000 – 2004.  There were 56 new projects opened in 2008 compared to 58 in 2007.  Of the 6 projects opened in 2008, 34 were manufacturing and 9 were distribution centers with 9 shared service centers (back office call centers).   The average space requirement by industrial prospects was approximately 150,000 sf.
Industrial prospects for 2009 are encouraging. Industry segments that are forecast to have good activity in 2009 and beyond include: warehouse/distribution/logistics, food processing, aviation/aerospace, shared services, manufacturing and automotive suppliers.
Prospects still cite Macon's advantages as location (close proximity to the Port of Savannah and Atlanta's Airport) and workforce (available, affordable and trained).   .
The choices for space under 10,000 square feet increased again in the 3rd quarter of 2008.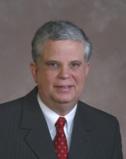 Larry Crumbley, CCIM
Commercial Real Estate Agent
Macon Commercial Office
478-746-9421