The first quarter of 2007 has been a busy one in the Commercial Development Department.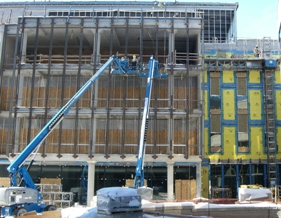 At Lullwater at Saluda Pointe, our apartment development in the Columbia, South Carolina suburb of Lexington, we have opened the beautiful leasing office for business and the lease up process has begun in earnest. We expect our first residents to move in the beginning of second quarter and construction on this 280 unit luxury property should be complete by the end of summer.
We are currently pursuing other apartment development opportunities in the Raleigh Durham, North Carolina area, Huntsville, Alabama, as well as Atlanta and Savannah Georgia. We feel that each of these markets represents attractive development and investment opportunities.
In Macon, we continue to work on our retail developments on Bass Road.  BB & T closed on the purchase of an Outparcel in January with plans to build a new branch office on the property. We have contracts pending on other parcels and expect several other transactions to close this quarter.
We are also excited about the start of construction of Lullwater East, an 11,000 square foot shopping center located at the southeast corner of Bass Road and Starcadia Circle.  This center will be anchored by a brand new Starbucks Coffee Shop, and we expect other high-end tenants to follow them there.
This quarter, we also expect to start clearing and grading for Marketplace at Bass, our "big box" retail development in front of the Bass Pro Shops on Bass Pro Parkway. We have had several well known national retailers, many of whom would be new to the Middle Georgia market, express strong interest in this development and are confident we will be able to attract them to this location.
On Arkwright Road, we are finalizing plans to begin the development of Phase II of the successful Arkwright Landing office development. The twelve lots planned for this project are expected to continue to attract upscale professionals seeking a convenient north Macon office address.
Lastly, we continue to work on the design, permitting, and pre-leasing for the Star Towers mixed-use development in suburban Atlanta. It is expected to be built in three phases, and when completed, we expect Star Towers to include Class A luxury high rise office space, exclusive retail and dining, in addition to a luxury full service hotel.  This is an exciting opportunity that we believe will provide great returns to its owners.

Bobby Cleveland
VP of Commercial Development
Macon Commercial Office
478-746-9421