Macon is a beautiful city with endless opportunities of things to do. Whether you are an active outdoors man, a stay-at-home type, or a night life seeker you will be sure to find something in or around town that best suits your interests! If you are looking to move to Macon and are not sure where to start, you can use this blog as an info guide on where in Macon would best fit you and your family's needs!
DOWNTOWN MACON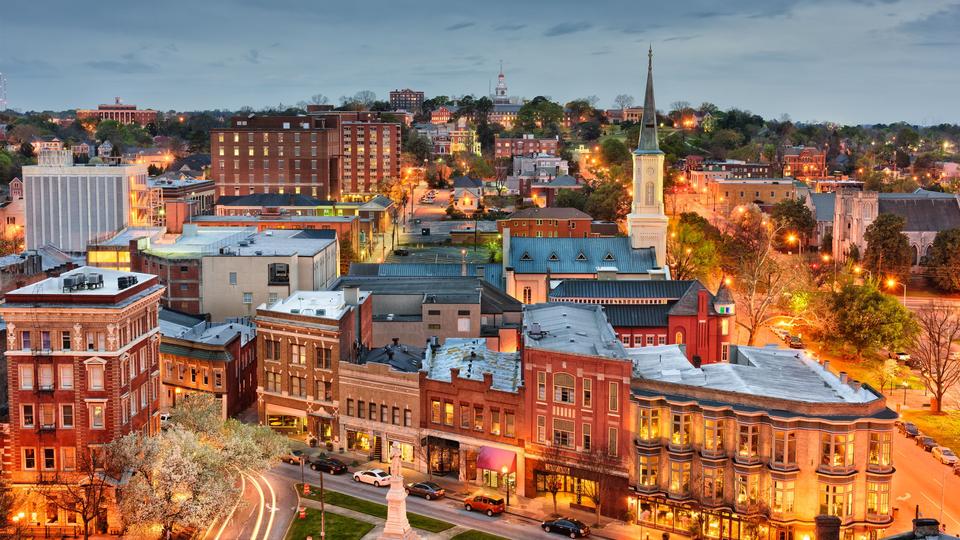 Downtown Macon is the perfect place to live for those who want to be in the heart of the action. Downtown begins against the Ocmulgee River and moves into town along Broadway. Addison Tinsley Park, Turpin Park, and Hollingworth Park are historic green spaces in the town center. Living here, you have plenty of dining and entertainment options, from local breweries to bars to specialty tea shops. Locals have easy access to public transportation.
Downtown Macon is the home of many historical landmarks and museums. Walk to attractions like the Georgia Sports Hall of Fame, The Douglas Theatre, the Hay House, and the Tubman Museum. You'll find historic homes, revamped loft spaces, and apartment living all within a close distance to many different activities and events!
WESLEYAN WOODS
Wesleyan Woods is a small, affluent neighborhood located just outside Macon. Residents live minutes from Wesleyan College and the Museum of Arts and Sciences. Tattnall Square Academy is a private school located inside the community. It's an excellent place to live if you want a quiet and peaceful setting while still being close to the city.
Enjoy easy access to all the amenities Macon offers, including shopping, dining, and entertainment. The Macon Mall is just a short drive away. The neighborhood is made up of large, executive-style homes on spacious lots. Wesleyann Woods is a great place for families as you are out of the busyness of the city but still close enough to pop into town from time to time, as well as, a short drive away from anything outdoorsy!
WHISPERING PINES
Whispering Pines is a beautiful 35-acre neighborhood that offers residents a suburban feel while still being close to the amenities of Macon. It was awarded the 2021 Community of the Year award by Meybohm. Whispering Pines rests along the shores of Lake Wildwood, a man-made lake where locals can fish, paddleboard, and swim. The entire development was built with the land, giving the streets a rolling, winding park-life feel. Whispering Pines has a 3.5-acre park with a community playground, 10-foot fire pit, sidewalks, picnic area, baseball, and 6.2 miles of hidden walking trails.
PROVIDENCE
Providence is spread over more than 200 acres in northern Bibb and southeastern Monroe counties and is divided into 8 distinct neighborhoods. Amongst these neighborhoods you can find estate homes, cottage homes, Charleston bungalows, luxury townhomes, and even retirement villas, allowing multiple generations to live comfortably near one another. The first homes were built in 2002 and construction continues today. Amenities in the community include a clubhouse and pool, tennis courts, playground, community walking trails, and sidewalks and beautiful tree-lined streets throughout the neighborhood. This community has something for everyone!
HISTORIC VINEVILLE
The Historic Vineville Neighborhood Association is an active organization open to anyone interested in the preservation of the area as an economic and social asset of Macon. Founded in 1978, this neighborhood is filled with historical charm. Today, Historic Vineville is a thriving neighborhood where hundreds of families and residents of all ages call it home. With picturesque tree-lined streets and architecturally intriguing homes, the neighborhood is conveniently located in mid-town Macon just minutes from downtown, Ingleside Village, popular parks and an abundance of shops and restaurants.
These towns are just a glimpse into all that Macon has to offer! To learn more about these areas and the areas surrounding please visit our website or schedule a call with one of our agents. Happy house hunting!