Last time we talked about St. George Island and The Plantation, a closed community development that has set a benchmark for real estate on the island.
The real estate boom started around the year 2000 and peaked in June of 2005 with the highest price paid for a lot at $2.62 million.  There were no beachfront lot sales in the calendar year 2006. In January of 2007, a lot sold for $1.225 million. In late August 2007, another one sold for $1.05 million. In December 2007, a third sold for $1.2 million while another was on the market at $999,000.  This indicates the buyer was willing to pay a premium for what they felt was a better lot. The $999k lot is now under contract and expected to close at slightly below listing price. This will reflect a drop in the market of almost 60% from the peak in 2005.  A similar rate is found when analyzing data from other property groups in almost all subareas of the Forgotten Coast and can be used as a rough formula for estimating market values in areas without sufficient sales data.  The graph also illustrates that our market is currently at mid-2002 levels.
By taking the data from 1986 through the end of 1999 an exponential regression line indicating the annual appreciation throughout those 14 years can be plotted and projected to the current date. Disregarding the boom and subsequent downturn, the projected line predicts the current value of a beachfront lot at just under $1.1 million- very near the actual current market value as determined by the most recent sales.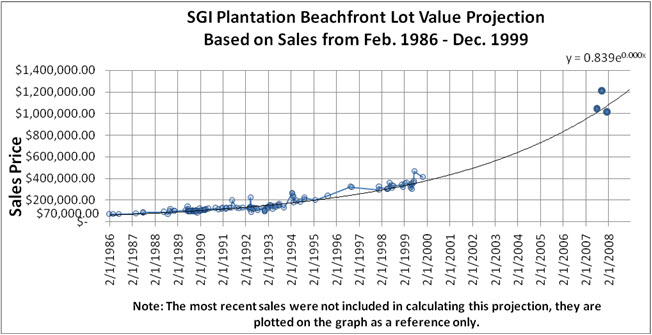 Does this mean our market decline has hit bottom? Not necessarily, but I think it indicates that it is close.  If prices continue to fall below this projected line, I believe once the bottom is reached they will quickly rebound at least to the line and then assume the same slope of appreciation.  There are several factors influencing the residential real estate market on a national level, and the effects of these factors are often compounded in resort/second home markets such as that of the Forgotten Coast.  We won't know when the absolute bottom is reached until we are on the other side looking back at it.  For end users intending to keep their property and enjoy it for at least 5 years or more, missing the exact bottom is not as important as it is to investors trying to maximize returns.  In fact, buying just before the bottom is reached can be quite advantageous as there are more properties to choose from and sellers are more willing to negotiate.
There are currently 72 homes for sale in the Plantation ranging from $539,000 to $4.999 million and 53 lots ranging from $199,950 to $2.8 million. For more information on these or other properties for sale anywhere along the Forgotten Coast, please contact our new office located in the center of St. George Island.  For more general information as well as pictures of The Plantation on the web, please visitwww.stgeorgeplantation.com.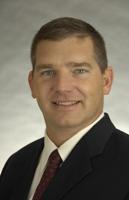 Grayson Shepard
St. George Island Realtor
St. George Island Office
850-927-2255