Top 5 Reasons You Shouldn't List Your Home As A FSBO (For Sale By Owner)
As home prices continue to rise, a lack of inventory remains a crucial challenge in today's market which has some homeowners trying to sell their homes on their own.
1) Exposure to Prospective Buyers
A whopping 95% of buyers utilize online platforms when shopping for a home.  Most real estate agents have an internet strategy to promote the sale of your home. Do you have an online home selling strategy in place?
Interesting Note: At Fickling & Company we utilize a specialized marketing team to help maximize a home's exposure. From our website www.fickling.com which is optimized for Search Engine Optimization (SEO) to Multiple Listing Service (MLS) distribution, to Search Engine Marketing (SEM) & social media traffic. Our team works to maximize a seller's home's exposure to potential buyers.
2) Results Come From The Internet
A "One & Done" online listing is not an effective internet strategy. Not every buyer will utilize a particular website, and only that website, during their home search, therefore, it is essential to syndicate a home's to maximize exposure. At Fickling & Company, anytime a seller lists a home with a Fickling & Company agent our marketing package syndicates the seller's listing to as many as 750 different websites!
Where Do Buyers Find The Homes They Actually Purchase?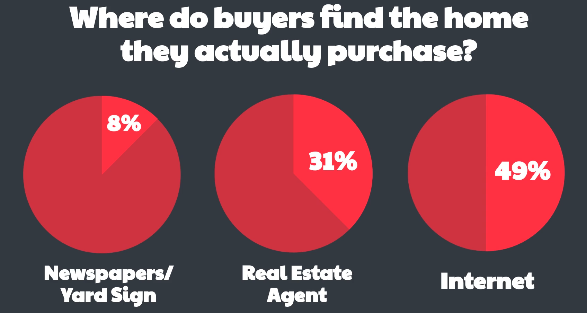 According to Keeping Current Matters (KCM), only 8% of buyers decide to purchase a home after passing a yard sign or seeing the home featured in the local newspaper. The buying percentage is drastically increased to 31% for buyers working with real estate agents, but often, in our digital age, 49% of buyers find the home they want to buy on the internet before ever stepping foot onto the property.
3) There Are Too Many People to Negotiate With
Selling a home as an FSBO requires constant negotiations – both monetary and scheduling. Some individuals a seller can expect to negotiate with are the buyer, the buyer's agent, the appraiser, the home inspector, and other inspection companies such as pet control.
There are many person-to-person moments before a home transaction is complete. It is crucial that a homeowner considers who will be available to show the home. Often times, a home buyer isn't going to have the luxury of working around the seller's schedule. It is vital that the house be available for showing when the buyer is available.
Even after an offer is accepted, a seller still needs to be available to meet with the appraiser, home inspectors, and buyer. Having a real estate agent alleviates the stress of scheduling as the selling agent works on the seller's behalf.
4) FSBOing has Become More & More Difficult
The paperwork required to complete a real estate transaction can be daunting. If a person decides to sell their home without an agent, it is important that they utilize a qualified real estate attorney to help guide you through the process.
According to Keeping Current Matters, "The percentage of sellers FSBOing has dropped from 19% to 8%."
5) Seller's Net More Money When Using an Agent
Homes sold with a real estate agent tend to sell for more than FSBOs by 6%. Real estate agents understand competitive pricing models which not only help a homeowner sell their home faster but typically 6% higher than a For Sale By Owner. How is that so? Real estate agents are skilled at helping a seller negotiate the best deal, and even before the negotiations take place the marketing offered by a real estate agent helps attract more qualified buyers.
Learn More About The Homes Sales Process: Click Here