The Macon-Bibb mayoral candidates spoke on topics such as education, road infrastructure, and the best and worst of the Macon-Bibb consolidation on Tuesday, April 12th, 2016 during a forum held at the Douglass Theater. The event was televised by 13WMAZ and video clips, pertaining to the major topics, are currently featured on their website.
The guest panelists echoed the voice of Maconites as they posed questions each candidate had to address.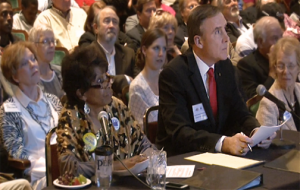 Fickling & Company is proud to share that Bob McMahon, President of Fickling Management Services, served as a guest panelist during Tuesday's forum. As a corporate citizen in Middle Georgia, the Fickling & Company staff understands the importance of being involved throughout the local community.
A major responsibility of citizenship is to be engaged in your community in some way.  It does not matter where or how…as long as you are engaged.                                                                                               -Bob McMahon
Click here if you would like to learn more about Tuesday's forum, and make sure to tune into 13WMAZ for the mayoral debate in May.