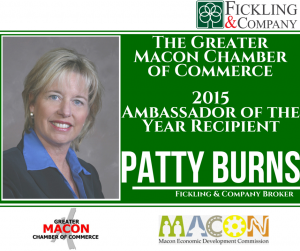 The Greater Macon Chamber of Commerce and the Macon Economic Development Commission (MEDC) hosted their 155th Annual Meeting on Thursday, December 3rd at Middle Georgia State University. During the meeting Patty Burns, a broker with Fickling & Company, received the Ambassador of the Year Award.  The Ambassadors Committee maintains and enhances a membership retention program that improves the relationship and experience of Chamber members. Mrs. Burns is a proactive presence in the middle Georgia community and is noted for fostering growth among new Chamber of Commerce members.
"Helping new members build viable connections also promotes growth within central Georgia," Burns said during a recent interview.
Established in 1861, The Greater Macon Chamber of Commerce remains the area's largest business services organization and primary advocate for the Macon business community. The Chamber leads economic development efforts for Macon and Bibb County by supporting the growth and development of businesses. Ambassadors, like Burns, play a crucial role within the Chamber as they help newcomers leverage their networking potential. Mrs. Burns encourages anyone interested in joining the Greater Macon Chamber of Commerce to not wait – the best time to start is now.